Jessica recently graduated from the University of North Carolina at Chapel Hill. Jessica is passionate about technology education and getting women interested in technology. She specializes in journalism and graphic design and loves learning new software that can be used for creative projects.
Latest posts by Jessica Milbern
(see all)
Marilyn Monroe inspired Madonna.  Madonna inspired Rihanna.  Just as the most successful music artists find their inspiration from the work of others, the best designers also feed off of inspiration from other designers.  So, which particular graphic designers are worthy of admiration? Let's take a look at Melissa Buchanan who creates attention-grabbing visuals filled with funky colors and eye-catching typography.
About 12 years ago, Melissa Buchanan and her husband JW launched their online business called The Little Friends of Printmaking, where they began selling silkscreen prints and clothing.  Now their merchandise can be found on Etsy and on The Little Friends of Printmaking website.  They advertise their merchandise as "real prints, not print-outs" and demonstrate the step-by-step process of silkscreen printing on their blog.
The Buchanans have worked with big clients like Nike, LiveNation and Liberty Mutual.  Graphicart-news ranked Melissa Buchanan as one of the top 12 Amazing Women Designers and now I've selected her for a Designer Spotlight.
What is it exactly that makes their work superior? For starters, Buchanan's illustrations, exude a modern, quirky vibe.  Just browse through some of the thumbnails and you will notice there is a eccentric but consistent style which catches your attention.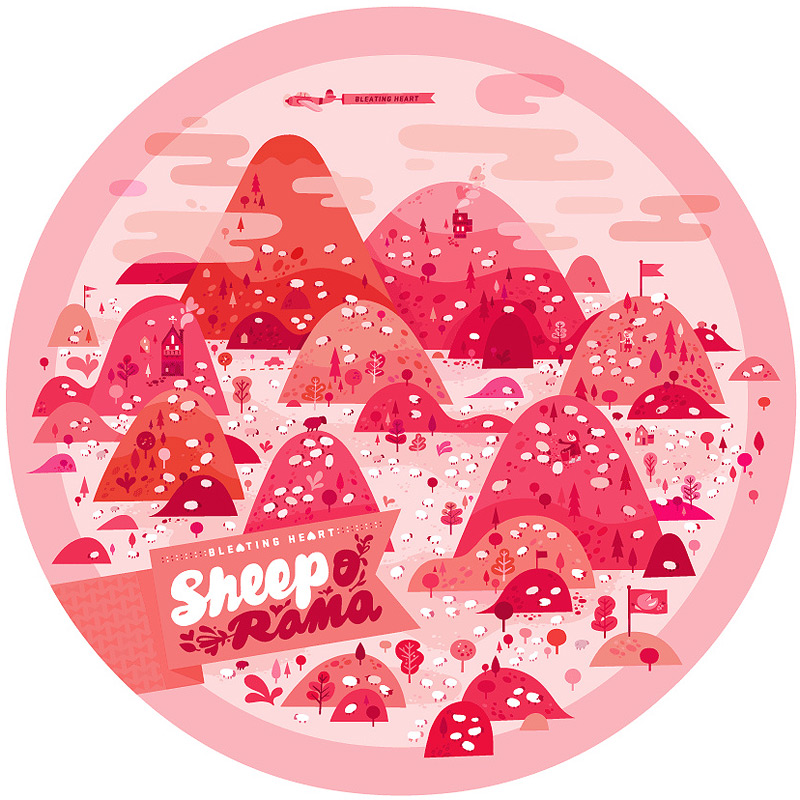 [Click here to see her work or check out the pieces at the end of this post]
On top of overall style that is pleasing to the eye, The Little Friends of Printmaking stand out because they stick to silkscreen printing, making themselves more unique.   Especially in the creative industry, it is important to find a way to stand out from all the other creative professionals.  The company puts in extra time and effort to produce quality pieces of art for each customer.
Melissa Buchanan gets a thumbs-up in my book— she and her husband began their careers by making gig posters and have now reached higher levels of success.  Things I concluded from digging into Melissa Buchanan and her work?  1) Collaboration worked for them—  it is good to be open to working with other creative minds.  2) Choose a style and work towards consistency.  This will make your work (which may include many forms— posters, brochures, sketches…) seem more put-together overall.  3)Make yourself distinguishable.  Everyone has their own unique qualities and passions— find what makes you different and do what you can to play it up.
---
Want to peruse the prints? Check out the shop for items just $30 and under! And make sure to follow The Little Friends of Printmaking on Twitter or "like" them on Facebook to see their latest merchandise.